This data visualization represents the linguistic diversity of New York City and its immediate surroundings. Over 700 languages are grouped into clusters representing the city's boroughs. Visit worldswespeak.com on a mobile device to explore the data visualization. Read the artist statement. or explore the linguistic clusters.
Artist Statement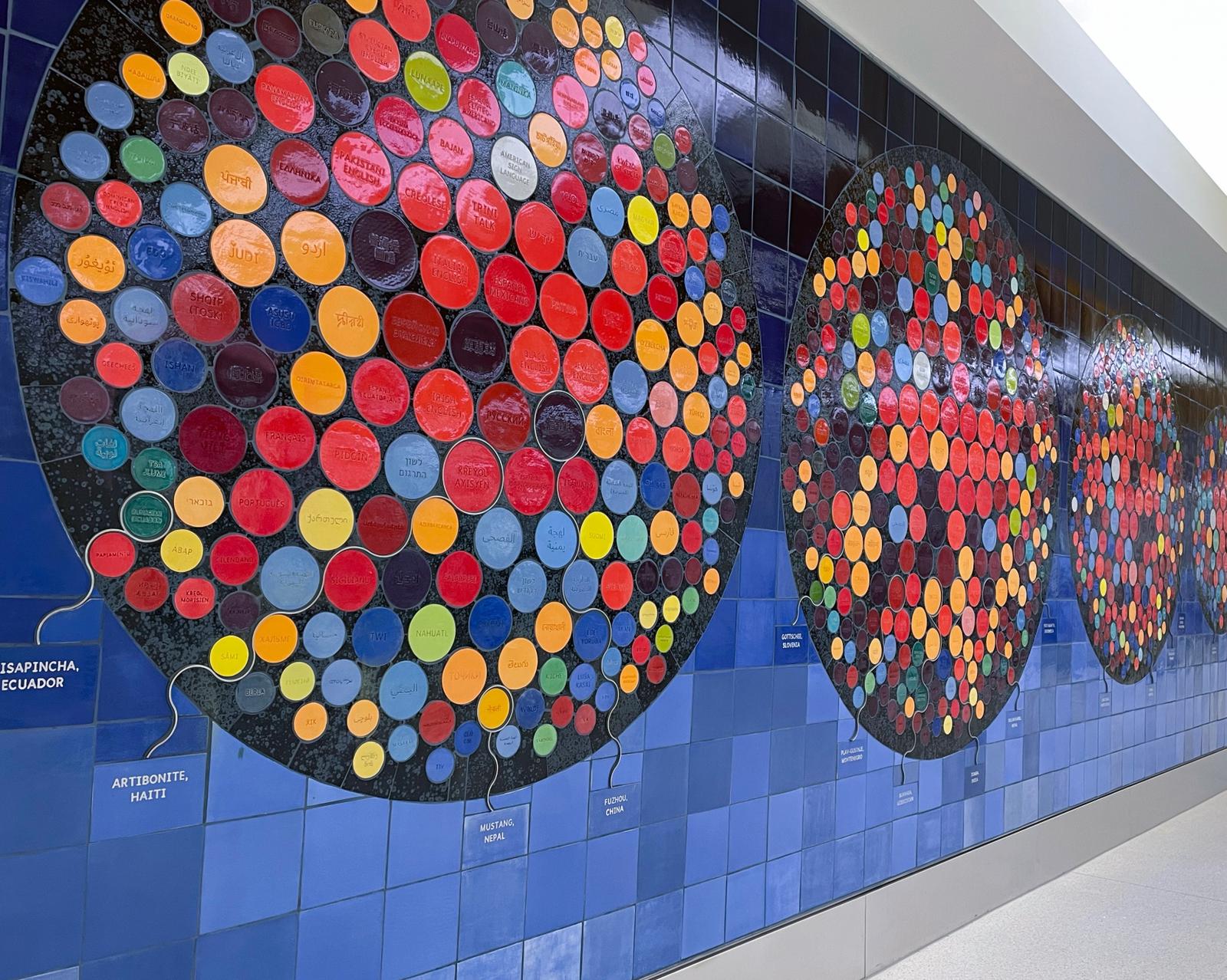 Mariam Ghani
(b. New York, NY, 1978)
The Worlds We Speak, 2022
Debossed ceramic tile, brushed steel
Commissioned by Delta Air Lines in partnership with Queens Museum, New York
Mariam Ghani's The Worlds We Speak visualizes the linguistic diversity of the tri-state metropolitan area as a colorful mosaic of handmade ceramic tiles. For this commission, Ghani partnered with the Endangered Language Alliance (ELA), an organization that documents and promotes the diversity of languages spoken in New York City and beyond, filtering the data from their NYC Language Map to spotlight over 700 languages and dialects spoken in the regions most served by LaGuardia Airport.
Against a dark blue sky, Ghani arranges six spherical clusters, each representing one region, made up of smaller circular tiles. Each circle represents one linguistic community in that region, and is inscribed with an endonym – the self-designated name of the language or dialect they speak, in that community's own language and script. The size of the circular tiles corresponds to the size of the local linguistic community, while their colors represent language families, with similar colors indicating similar regions of origin. Curved metal "flight paths" extend from some of the circular tiles representing local linguistic communities to texts below the spherical clusters, which name their corresponding communities of origin in other parts of the world. These paths represent both hyper-specific journeys from small towns in other countries to local NYC neighborhoods, and long-lasting ties between communities here and elsewhere.
Ghani's mural emphasizes language's ability to move beyond borders. She also encourages viewers to think about the worlds contained in words. Every language is a way of seeing and representing all that surrounds us: a different slant on the world. Every language is also an archive of its speakers' history, full of clues to their ancestors' experiences, encounters, and peregrinations. These colorful tiles represent a wealth of knowledge that comes from the incredible diversity right here in our backyard.